The fallout from the COVID-19 pandemic for higher education institutions (HEIs) in the United States will likely be pronounced and protracted. Institutions that are financially dependent on international students will be particularly affected, given the disease's broad and indeterminate impact on global mobility. Even if international air travel fully resumed this summer, and most universities reopened for on-campus instruction by the fall semester, it remains an open question at what point international students will feel confident enough to pursue education in the country that's currently the global epicenter of the pandemic. The severity of the COVID-19 outbreak in the U.S. makes a speedy recovery of international student mobility to the U.S. increasingly unlikely.
Further complicating international recruitment is rising anti-Asian sentiment, the racist scapegoating of Asians for the spread of the virus, as well as increasing political tensions with China, the largest sending country of international students. It's also possible that visa regulations will be tightened amid the crisis. Four U.S. senators have already warned that international students could take away "jobs that would otherwise go to unemployed Americans as our economy recovers ." They urged the U.S. government to suspend the Optional Practical Training (OPT) program and the issuance of H-1B visas, both of which are major draws for international students from India, China, and elsewhere.
This article discusses the implications of the COVID-19 pandemic for international student mobility to the United States. We'll describe current trends and attitudes of international students toward studying in the U.S., before briefly discussing if online education could be a viable alternative to retain international students. We'll include key findings from a survey of prospective international students and U.S. HEIs that WES conducted between April 15 and April 21. We draw on the responses of 615 students from 92 countries,[1] as well as responses from 199 HEIs including several large state universities, two-year associate colleges, four-year institutions, and graduate schools. Both sets of responses are part of a longitudinal survey, follow-up results of which will be published by WES later this year.
While conditions for international mobility to the U.S. could hardly be worse, academic institutions may find solace in the fact that 67 percent of the students surveyed by WES are still generally interested in studying stateside, while 13 percent are even more interested in doing so. This finding inspires some hope that the long-term impact of the crisis on international enrollments in the U.S. may be less apocalyptic than feared.
But much will depend on the duration of the crisis. The longer it lasts, the more international students will change their plans. Longitudinal surveys of international students in different countries over the past few months show a decreasing appetite for pursuing education abroad. Even if the U.S. could retain three quarters or more of its international student body over the next few semesters, the crisis could be existential for some institutions. The ripple effects for U.S. society at large could be destructive as well: According to NAFSA, three U.S. jobs are created or supported for every seven enrolled international student in the following sectors: higher education, accommodation, dining, retail, transportation, telecommunications and health insurance".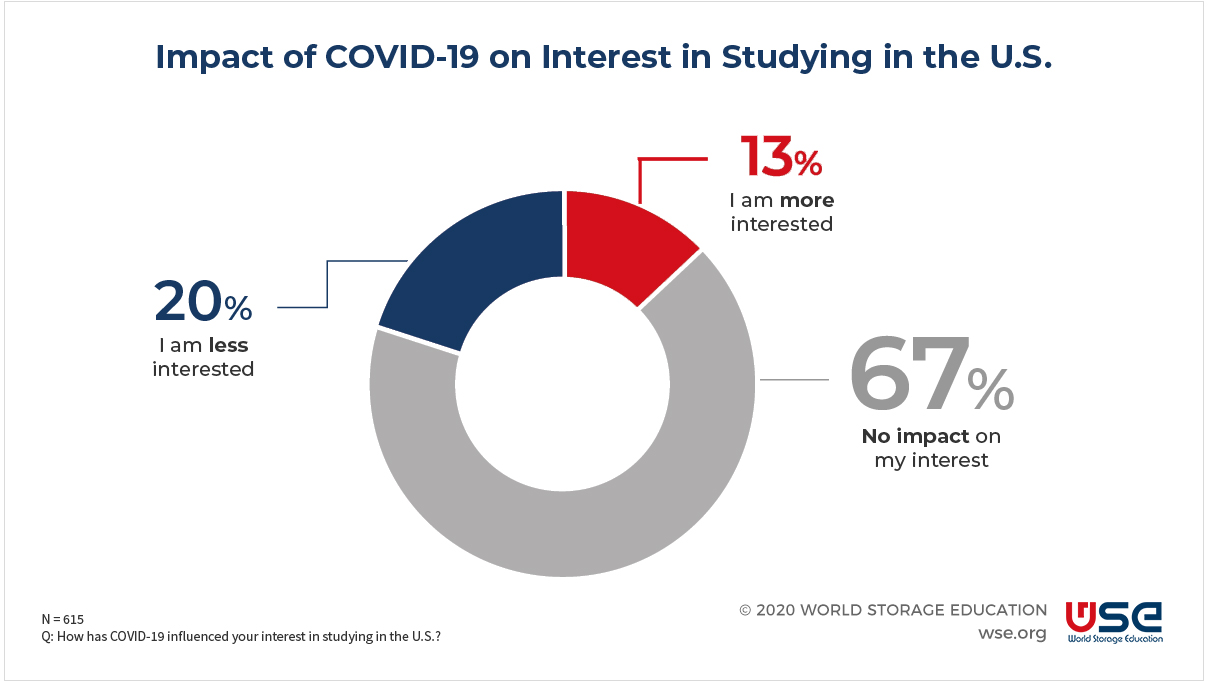 HOW COVID-19 HAS IMPACTED THE STUDY PLANS OF MOBILE STUDENTS
One positive takeaway from our survey is that many international students seem to view the coronavirus pandemic as a temporary phenomenon. A slight majority of 53 percent of respondents who intended to study in the U.S. before the pandemic plan to merely postpone their studies, rather than scrap their plans altogether or study at home or in another country. The fact that 23 percent of respondents are likely to study in a different country, however, should serve as a warning to U.S. institutions. Countries that bring pandemic spread under control the earliest will almost certainly have an advantage in recruiting mobile students once international mobility sputters back into gear.
The Australian government, for instance, currently plans to exempt international students from travel restrictions and allow them to return to Australia as early as July —a scenario that seems out of reach in the U.S. at this point. Similarly, observers believe that New Zealand, a country which has effectively contained the pandemic, will have "a real opportunity to become more desirable as a destination for foreign students" because of the crisis.
The longer the image of the U.S. is tarnished by its pandemic response, a perceived strong risk of a second wave of infections, and increasingly harsh immigration restrictions, the harder it will be for U.S. HEIs to compete with academic institutions in other international education hubs. Fully 50 percent of students surveyed by WES anticipate that the coronavirus crisis will negatively impact the openness of U.S. society to international students.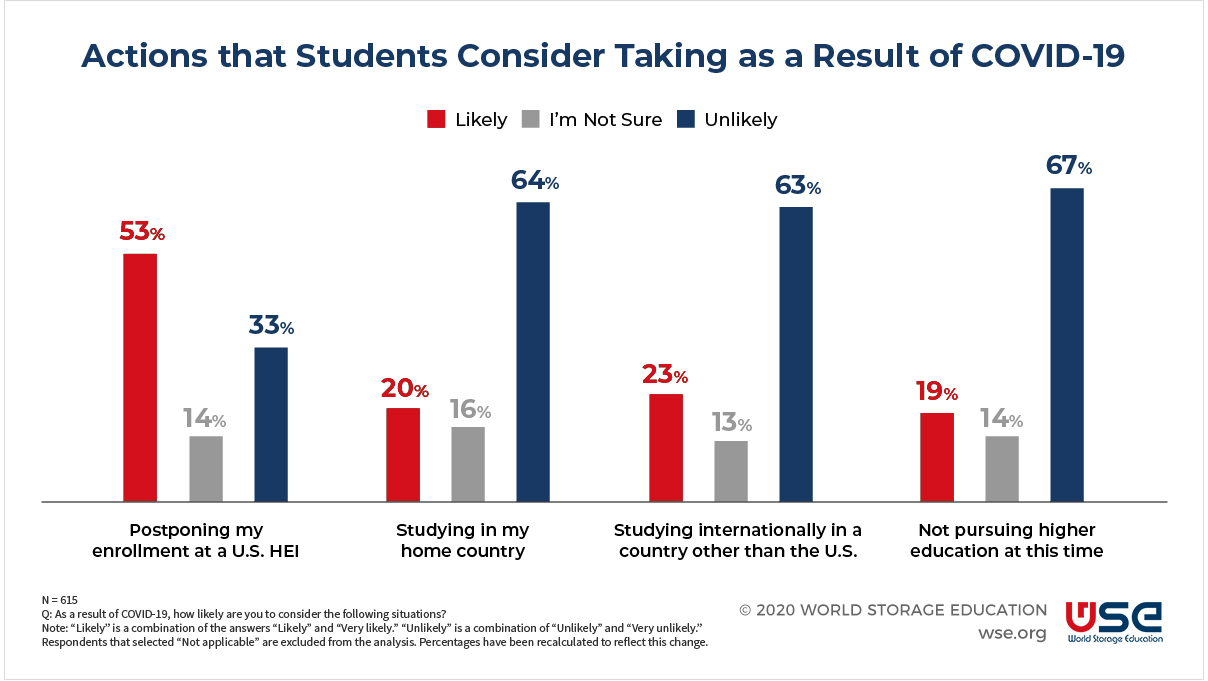 Equally disconcerting, if unsurprising, is the fact that 20 percent of prospective international students stated that they're now likely to study in their home countries. This is a percentage that may well increase if the pandemic continues to drag on in the U.S. and other destination countries. Local surveys in India, cited in April by the Hindustan Times , found that more than half of Indian students who had intended to study abroad planned to cancel those plans, while about a third of them sought to defer existing offers of acceptance by a year. Indian recruitment agents forecast increased competition over scarce domestic university seats this year as previously outbound students now find themselves seeking options at home.
ECONOMIC CONCERNS
Aside from travel restrictions and safety concerns, financial constraints have become a greater barrier, with many parents and students now unable or unwilling to raise funds for an expensive international education amid constricting lockdowns and surging unemployment. Seventy-nine percent of prospective students surveyed by WES expect economic conditions in their home country to be negatively affected by the pandemic; 43 percent fear that they will no longer be able to afford studying in the United States.
Whereas travel restrictions, office closures, and the suspension of mail services and tests like the SAT or TOEFL will inevitably disrupt international student admissions in the short term, a global recession will impede student mobility much more severely and long lastingly. Even though global outbound student mobility kept growing throughout the Great Recession, economic downturns do affect mobility quite significantly, particularly with respect to student flows from lower middle-income countries to high-cost study destinations. This can be seen in the following graphic, which illustrates a distinct drop in outbound mobility when India, the world's second-largest sender of international students, experienced an economic crisis in the early 2010s.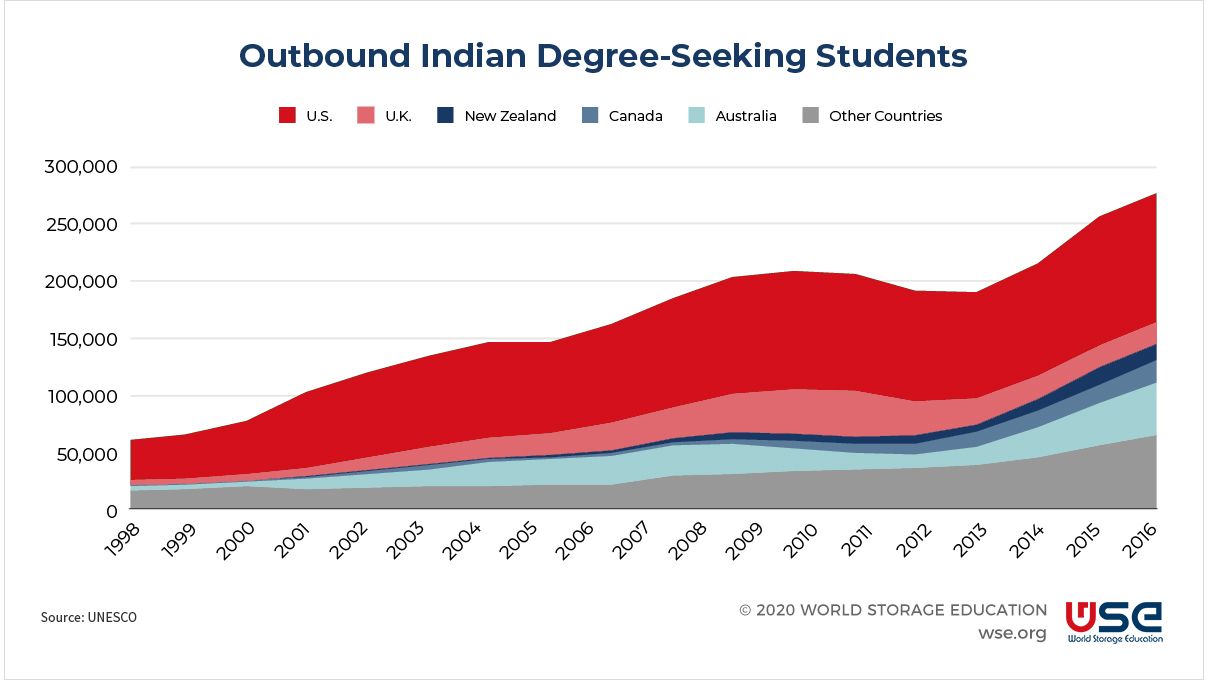 The Trump administration's plans to suspend the OPT programare detrimental in this context. While other countries are weighing options to attract more international students, including by expanding access to employment , the Trump administration's policies won't help the U.S. hold on to its global share of the international student market, which has already declined by an estimated 6 percent since the beginning of the century . Independent of possible visa restrictions, the current unemployment rate of close to 15 percent and the prospect of a protracted economic crisis mean that the U.S. will lose part of its sheen as a destination for students interested in employment and possibly immigration after graduation.
Given the catastrophic economic outlook for countries globally, some observers have suggested that it will take international student mobility five years to recover from the pandemic. While that forecast appears overly pessimistic, it's all but certain that fewer students will head abroad for the foreseeable future as incomes and public scholarships dry up. Students from lower middle-income countries like India, Bangladesh, and Vietnam, all top sending countries of students to the U.S., may opt for less expensive study destinations that are closer to home, such as China, Malaysia, or South Korea. International branch campuses and transnational programs that allow students to obtain an international education without travel may become more popular.
THE OUTLOOK FROM AN INSTITUTIONAL PERSPECTIVE
In sum, there's reason for concern: 77 percent of HEIs surveyed by WES expect a downturn in international enrollments because of the crisis—a notable difference when compared to the Great Recession, which was accompanied by a significant uptick in enrollments by domestic and international students alike. Most HEIs—64 percent—are extremely concerned that travel restrictions may impede international student mobility and 70 percent worry that new international students will not be able to get a visa. Sixty-four percent predict that HEIs will consequently increase "backyard recruitment" of foreign-educated students already in the U.S. to compensate for the loss.
IS ONLINE EDUCATION A VIABLE ALTERNATIVE?
Given the uncertainties as to when the pandemic will be contained, growing numbers of institutions are shifting to online education beyond the summer. As of this writing, 7 percent of institutions have announced that they will deliver education online in the upcoming fall semester. Another 28 percent of HEIs, including major international host institutions like Columbia University and the University of Southern California, are still deciding or are considering other options, including blended learning. For international students unable to travel, distance learning will likely be more common: 52 percent of 234 U.S. HEIs polled in a recent survey by the Institute of International Education stated that they would provide online options for international students in the fall.
Some observers have suggested that the rapid global shift toward distance learning may provide HEIs with a golden opportunity to reach more students overseas with online programs. Former U.K. higher education minister Jo Johnson, for instance, thinks that British universities will be able to increase overseas enrollments from lower "income groups in Asia and Africa where young people do not necessarily want the full-fat, high-cost, three- to four-year program living in an English-speaking country."
However, while there's certainly the potential to reach more students in untapped overseas markets with distance education programs, there are doubts about how popular online options will actually be for international students, especially among students already enrolled in degree programs. Fully 32 percent of international students surveyed by WES said that they would not continue their studies in online mode, while another 30 percent were undecided. This finding mirrors the sentiments of domestic students: 33 percent of prospective U.S. students polled in May said that they would "defer or cancel their fall semester if schools go totally online."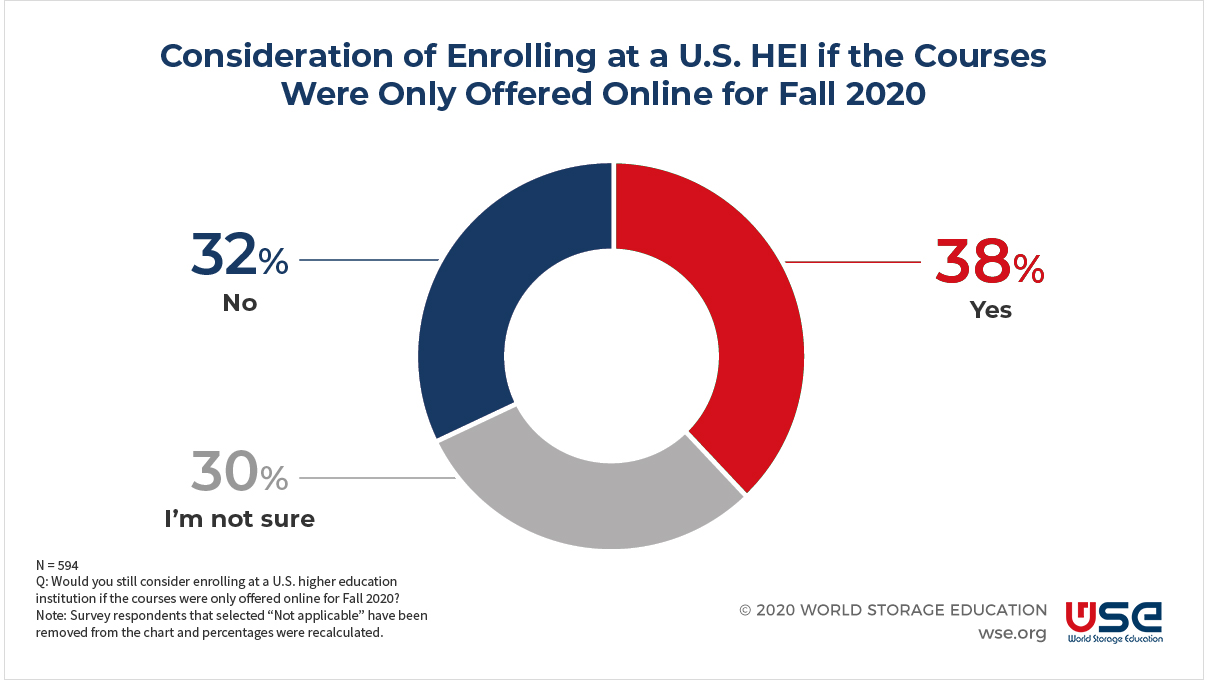 There are technical issues to consider as well. Several universities have reported difficulties delivering learning content to students in China because of internet censorship and the inaccessibility of popular online platforms. What's more, it will be difficult to offer online programs at the same price as full-fledged on-campus programs, so the revenues of major host institutions would be at risk either way if education were to be delivered wholly online on a prolonged basis.
It remains an open question whether online education will help retain international students in the long run. While some students will certainly be put off by paying hefty fees for an international online education, some institutions and countries may stand to benefit. As one Canadian immigration policy analyst has noted, "international students who wish to eventually apply for Canadian immigration will want to capitalize on the opportunity to complete a portion of their studies in their countries of origin, while still being able to access the same benefits (the work permits) had they been required to physically study in Canada.… The cost to study in Canada will decline for them, since they will not have to incur additional living expenses at the outset of their Canadian education."
---
For Context: Other Surveys
By and large, several of our survey findings are mirrored by those of other surveys. For example, 69 percent of 6,900 international students recently surveyed by U.K.-based education consultants IDP Connect stated that they still intend to begin their studies as planned. Most of them prefer to do so on campus and defer their start dates if necessary, while a sizable number of respondents were unwilling to continue studies in online mode, expressing concerns about quality and noting that it " lacked international exposure."
While these attitudes might change over time, as the crisis continues to unfold, 32 percent of prospective international students abroad surveyed by educations.com said they weren't interested in continuing their studies in online mode. After surveying 22,000 international students, the Erasmus Student Network noted that while distance learning is an acceptable solution to an unprecedented problem " … online classes are not a proper substitute for a physical mobility experience. Several problems were reported with the technical implementation of online courses, and while these can probably be worked around, the real 'Erasmus experience' is unlikely to be the same ". As QS summarized its most recent survey findings , "international students may be deferred but they're not deterred" from continuing their studies on campus should conditions permit.
---
MAJOR UNCERTAINTIES AHEAD
While it's difficult to see international student mobility fully rebound under the current circumstances, it needs to be understood that global student mobility has grown consistently and reliably over the past three decades, crises like the Great Recession or the SARS epidemic notwithstanding. Consider that between 2000 and 2017, the number of mobile students enrolled in degree programs in other countries more than doubled, from 2 million to 5.3 million, according to the latest available UNESCO statistics. Looking forward, the number of tertiary students worldwide is estimated to rise from 251 million in 2020 to 594 million by 2040—making it all but certain that international student mobility will continue to increase, at least to some extent, in the long term.
Past trends in the U.S., the most popular international study destination worldwide, show resilience to global crises as well. Aside from a brief period of stagnation in the early 2000s in the wake of the 9/11 terror attacks and the globally unpopular Iraq war, international student enrollments in the U.S. have been growing steadily, almost doubling between 2006 and 2017 .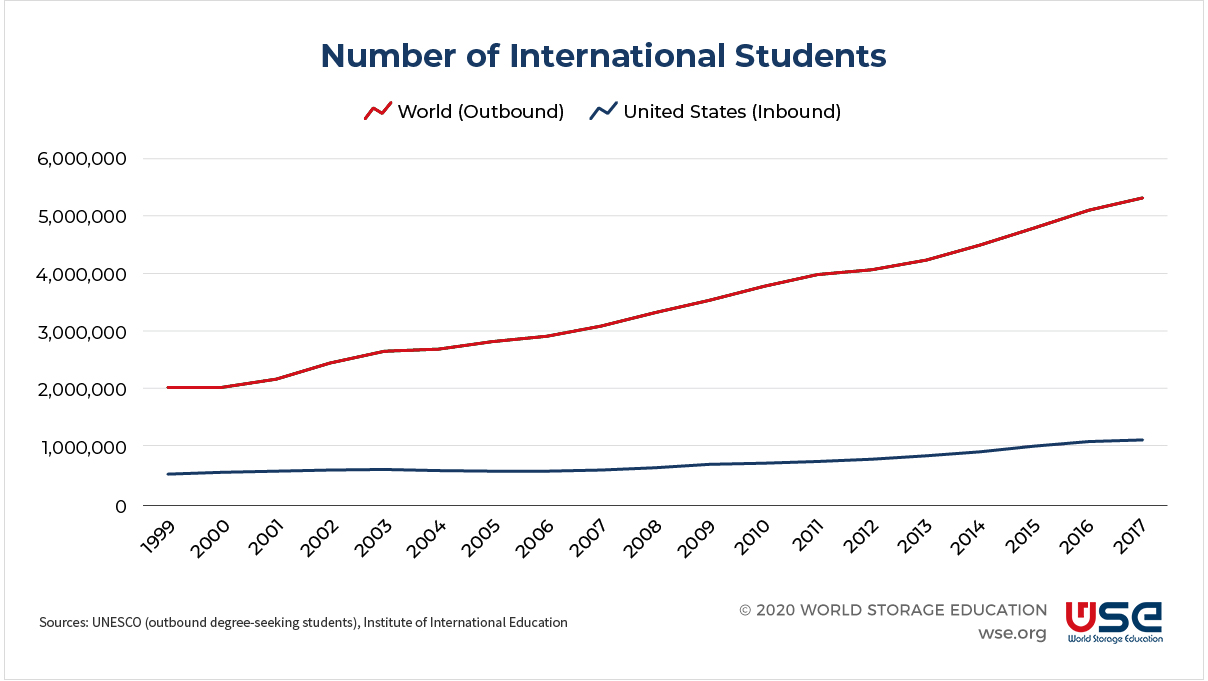 At the same time, we are sailing in uncharted waters because of the global totality of the pandemic. There are many unanswered questions as the crisis continues to unfold. For instance, how will the education systems of major sending countries be transformed by the crisis? To what extent will private institutions outside of public safety nets go belly-up, and by how much will public university budgets be slashed? Such factors could limit access to education and consequently drive more students overseas.
On the other hand, if the pandemic should be prolonged, will distance learning be mainstreamed and become more ubiquitous even at top institutions, potentially increasing access to education and widening bottlenecks, thereby easing pressures to pursue alternative study options abroad? If there is a prolonged shift to distance learning, will this change be broadly accepted, or will distance education still be considered second rate, with elites opting for on-campus programs that include real cultural immersion experiences abroad, rather than studying "canned content" in their bedrooms?
Closer to home, will the presidential election in November result in a change of government, potentially ushering in an era of greater openness that could rekindle interest in the U.S. as a preferred international study destination?
With all these questions hanging in the balance, it's difficult to predict how international student mobility to the U.S. will develop in the future. However, there are good reasons to believe that the current crisis may hasten the relative decline of the U.S. as an international study destination, going beyond a short-term crash. The number of Chinese students in the U.S.—already growing at a decelerated pace before the crisis—is likely to contract. We may well witness a greater regionalization of student mobility and shifts in student flows to other countries. Destination countries with efficient and socially compassionate epidemic control mechanisms and health care systems stand to gain from the crisis. While factors like the growing number of tertiary students worldwide and the global reputation of U.S. universities will ultimately continue to bring international students to the U.S., the country's HEIs must brace themselves—now more than ever—for significant changes in international student flows.